The KarmetiK Machine Orchestra brings together custom-built robotic musical instruments and human performers with modified instruments, unique musical interfaces, and hemispherical speaker-pods. The ensemble combines KarmetiK's international lineup of artists and musicians with students in the Music Technology & Technical Direction programs at the California Institute of the Arts. In an acclaimed inaugural performance, The KarmetiK Machine Orchestra premiered on January 27th 2010 at the REDCAT Walt Disney Concert Hall in downtown Los Angeles, co-directed by music director Ajay Kapur and production director Michael Darling.
The California Institute of the Arts premiere of the Machine Orchestra took place on May 13th 2010 in the Modular Theater located on the Valencia, CA campus. Two new musical sculptures, five new pieces, and many new musical interfaces were unveiled during the sold-out show. Produced by students in the Music Technology & Technical Direction programs at CalArts, the show also featured special guest performer Trimpin.
In August 2010, Machine Orchestra traveled to New Zealand, performing in Auckland and Wellington. The Machine Orchestra was also hosted at the 01SJ Biennial Digital Arts Festival in San Jose, California in September 2010. Machine Orchestra also headlined at at Pulse Festival in Savannah Georgia in March 2012.
The ensemble has collaborated with composers, performers, choreographers, and digital artists including: Trimpin, Curtis Bahn, Tomie Hahn, Raakhi Kapur, Ustad Aashish Khan, Nyoman Wenten, Perry Cook, Meason Wiley, Charlie Burgin, Jordan Hochenbaum, Owen Vallis, Jim Murphy, and Dimitri Diakopoulos.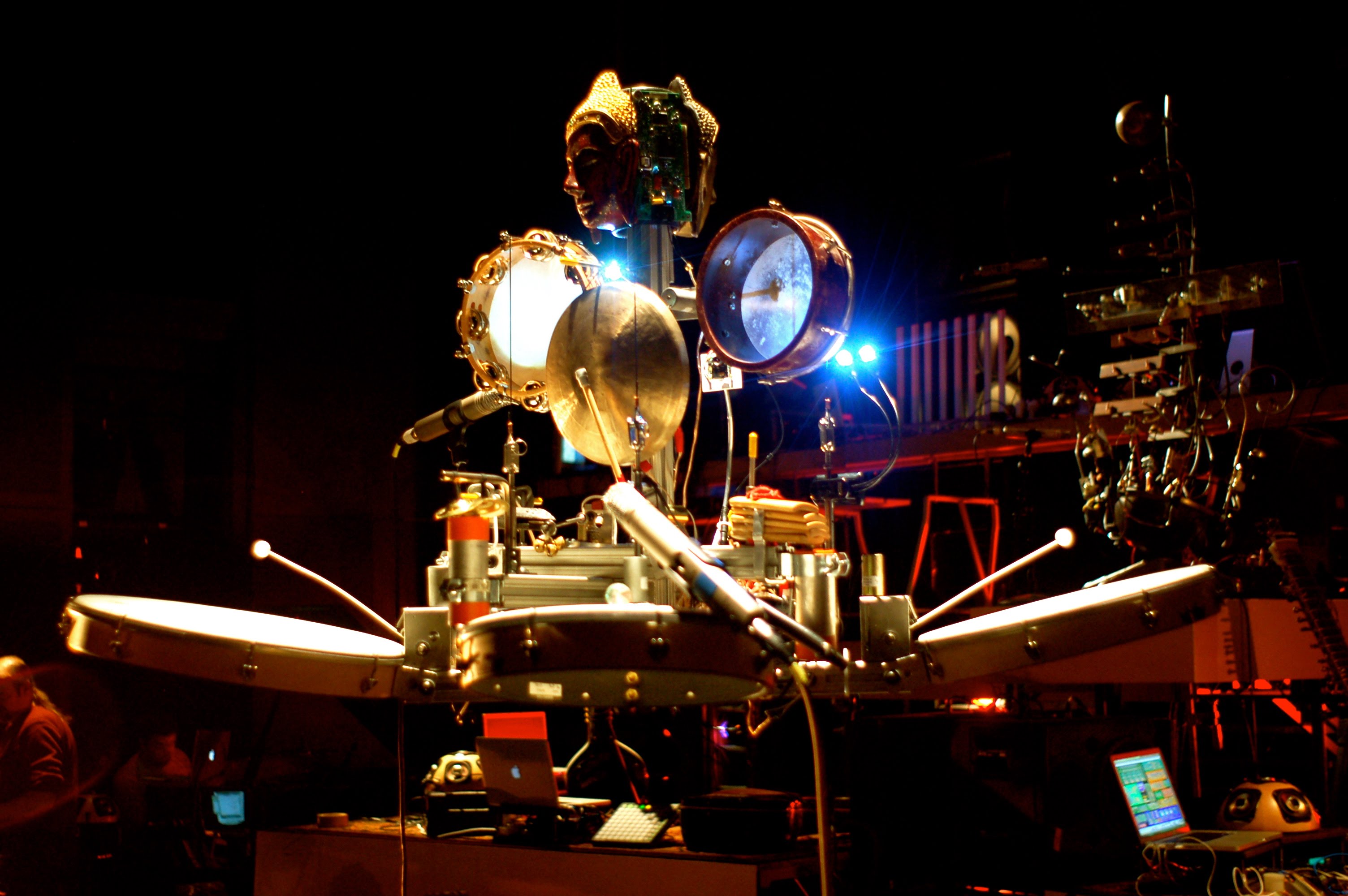 Slide 1